What's next for HTML Email designers?
So, while CSS-unfriendly desktop clients and Web email clients like Gmail will always be here to rain on our parade, the good news is that the rise of mobile email has meant that we may soon be at liberty to create more Web-like email experiences. It has also meant that optimizing your newsletters for handheld and touch displays has gone from being a "nice thing to have" to a given. This doesn't just affect email newsletters at the code level, but it also changes the way we display design elements. For example, in the following two mobile designs, which do you think is the more effective call-to-action (CTA) button?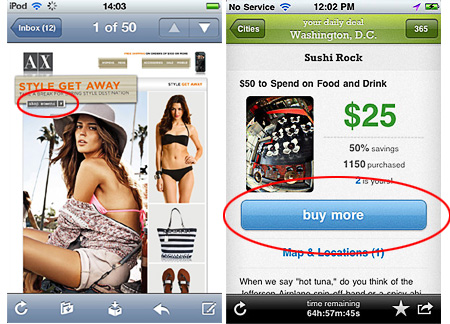 Or consider the CTA in the following mobile-friendly email. If it's not visible "above the fold," as they say, then will it be seen at all? Or worse, will recipients end up accidentally tapping the toolbar instead?
If designers aren't asking these questions, they sure will be soon. You need only visit Style Campaign's blog (which provided the examples above) to grasp the importance of solid mobile design.
Here are a few other important things to consider when designing adaptive layouts:
Single-column layouts that are no wider than 500 to 600 pixels work best on mobile devices. They're easier to read, and if they fall apart, they'll do so more gracefully.
Links and buttons should have a minimum target area of 44 × 44 pixels, as per Apple guidelines. Nothing sucks more than clouds of tiny links on touchscreen devices.
The minimum font size displayed on iPhones is 13 pixels. Keep this in mind when styling text, because anything smaller will be upscaled and could break your layout. Alternatively, you could override this behavior in your style sheet.
More than ever, keep your message concise, and place all important design elements in the upper portion of the email, if possible. Scrolling for miles is much harder on a touchscreen than with a mouse.
Now it's your turn to design wicked HTML email newsletters that, with a dash of CSS, look just as effective on the small screen as they do in your Web browser or desktop inbox. I have no doubt that your readers will appreciate the effort.
https://www.caotica.eu/wp-content/themes/caotica/images/layout/logo-white.svg
0
0
martin
https://www.caotica.eu/wp-content/themes/caotica/images/layout/logo-white.svg
martin
2011-06-24 13:31:03
2011-06-24 13:31:03
What's next for HTML Email designers?